VR Saddlery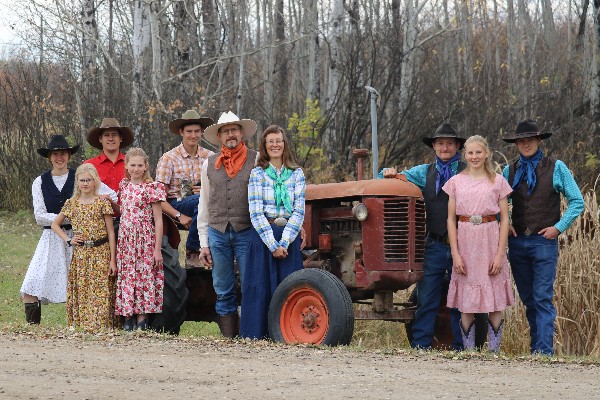 VR Saddlery is owned and operated by Vern and Lorrie Rempel and is located near DeBolt, (which is 50 km east of Grande Prairie, or 50 km west of ValleyView), in Alberta's Peace River Country. VR Saddlery opened for business in 1995, with Vern doing the leather work and Lorrie keeping the books in order.

LEARNING THE TRADE
Vernon grew up in the city of Winnipeg and was introduced to horses while he was a counselor at a Bible camp just outside of Winnipeg. Then he ended up helping at camp the following winter with trail rides and hay rides. While there, he met a friend who got him interested in braiding. Later on, he moved to Sundre, Alberta to help at Camp Evergreen. Here he met and married Lorrie. It was while at Camp Evergreen that Vern's leather work began to increase from repairing camp saddles, to building chaps for friends, to building his own tack. In 1993-94 he attended the Leather Working Course at Olds College, taught by Ken Cameron. This has proved to be quite beneficial, and helped lay the foundation for the future.

SETTING UP VR SADDLERY
In the fall of 1994, they moved to DeBolt, Lorrie's hometown, and set up VR Saddlery. In the years that followed, Vern learned much from trying new things, talking to customers, and studying other people's work. There have been opportunities over the years to help friends and neighbors at brandings and moving cows, and a few trips to the mountains, as well as trail riding with our children.

VR Saddlery is dedicated to the honor and glory of God, the Creator of all things, who is the giver of life, talents and abilities, and gives us opportunities to use and develop these things. We thank God daily for giving these abilities, and for opportunities to do quality leather work that others use and appreciate. There are further thoughts on this in "A Saddle Makers Thoughts About Choices".

FAMILY
On a different note you may be interested in some of the children's artwork and projects, which you can access here by clicking on each of the children's name. We have eight children, Jonathan, Jason, Nathan, Elizabeth, Aaron, Lorilee Naomi and Rosalie. Some of them help in the saddle shop with suitable tasks and the younger ones just play there sometimes. We have the privilege of home educating our children which goes well with teaching them the saddle business, in northern Alberta.
© Copyright 2016 by VR Saddlery
Website designed and built by Jonathan Rempel.